Do crowds matter? Yesterday, Hillary Clinton cancelled a rally that she and Tim Kaine were supposed to be holding in Cleveland, Ohio. She did speak, however, at a predominantly African American church. NBC News published this picture of the event: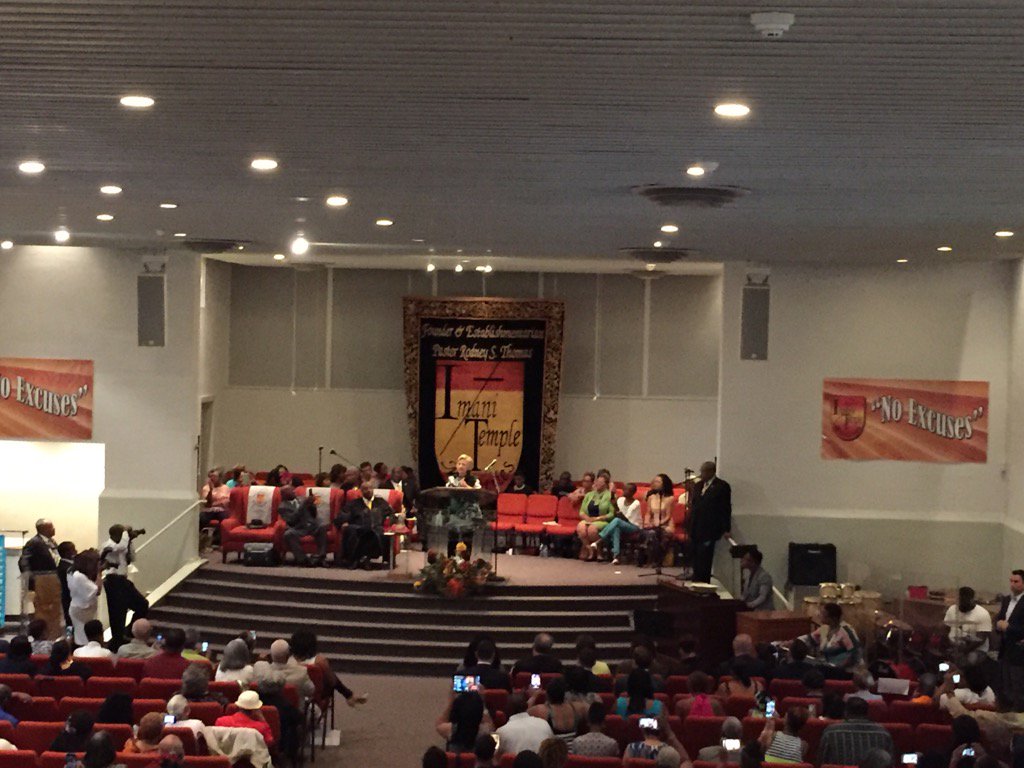 The point to notice is that there are many empty seats. Hillary couldn't draw a full house at a church where she has heavy support.
Meanwhile today, Donald Trump held a rally at the Columbus, Ohio convention center. Thousands of people were turned away according to news stories. To be fair, one reason so many were turned away is that the local fire marshall decided to close the doors at a certain point when the hall was not yet full. Still, Trump clearly got a much bigger reception in Ohio than Hillary.
Does that difference in crowd size matter? The ambiguous answer is that it may. One of the biggest problems for Hillary Clinton with the African American community is not getting their support, but rather getting them to come out to vote. For decades, white voters across America voted at higher rates than blacks; then came 2008 and 2012. In those two elections, blacks came to the polls in record numbers and at a higher rate than whites. If turnout rates go back to pre-Obama levels, Hillary Clinton could lose two or three percent of the vote as a result. In a close election, that could flip the outcome. The lackluster turnout for Hillary in Ohio shows that there's no enthusiasm for her. On the other side, Trump keeps getting big crowds and that may indicate great enthusiasm for him come November. If Trump can just increase turnout by 3%, he may be able to win going away, particularly if that is combined with Hillary's nomination depressing the black vote.
I realize that this is reading way too much into a few crowd pictures and stories. Still, it is really unusual for the nominee of a major party having trouble filling a rally with supporters. We will have to wait and see if the enthusiasm gap continues.